Women often question about Scorpio men behavior in love.
A guy with Scorpio zodiac sign is private in nature – this explains why he acts aloof and distant towards his partner. Well, most of the time he is very affectionate but the moment he becoming withdrawn will confuse you.
How does Scorpio man show love? Is pulling back a sign he no longer loves you?
If you're dating a Scorpio, then keep in mind that he has his own way to express feelings and affections in a relationship. If it happens for him to ignore you, no need to worry much as he just needs some space.
Below I come up with a list helping you know how your Scorpio will show love once he is into you.
5 Ways to Know a Scorpio Man Loves You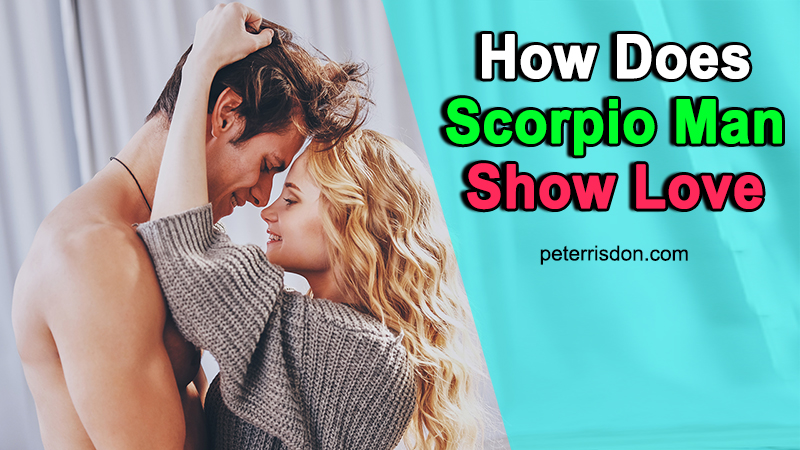 #1: He trusts you
The big issue of the Scorpio male is that he hardly trusts anyone.
As I said earlier, this guy is reserved and secretive; thus, he surely needs quite a long time before willingly opening up to you. He doesn't like if someone forces him to talk about his emotions.
A successful relationship with Scorpio man is all about patience. Simply wait for him to reveal his feelings to you in a natural way. He can be slow to fall in love but trusting you means you are special to him.
When you're with him, try asking about his day and see his answer.
If he pays full attention to what you say and give back a detailed answer, then he really values the relationship with you.
#2: He rarely compliments you
There's a type of woman that loves hearing all kinds of compliments from her partner; however, she may be disappointed with Scorpio man. Certainly, the Leo female should not date this male as he seems stingy with compliments.
He is very honest and does not like the idea of offering insincere compliments, so please understanding his POV or you may get upset by his early interactions.
Don't think that he will never give you any praise.
This guy does not get used to complimenting you all the time; nevertheless, once he gives one, he really means it. Whenever he praises you for your hard work or your beauty, he doesn't just try to make you feel better – everything he says is indeed heartfelt and thoughtful.
#3: He avoids showing affections in public
Did I tell you Scorpio man dislikes public displays of affection (PDA)?
Never plan to kiss him in a crowded place, or he will surely pull away. But don't quickly conclude this is a sign he is not interested. You must always keep in mind that he is a private person who finds showing love publicly is hollow and worthless.
Find out about signs a Scorpio male likes you here if you're curious about his inner feelings.
Don't blame him for not displaying his affections towards you when both are in public. In fact, he's pretty passionate and loving when just the two of you are together. Get ready to see his energetic and enthusiastic side which he will show only if he's with you alone.
Be persistent with your Scorpio and the result will be worth the wait!
#4: He creates a connection through sex
When it comes to the most sexual sign in the zodiac sign, we all think about Scorpio.
As his sign is ruled by the fiery Mars and mysterious Pluto, Scorpio man needs sex as much as he needs food and drink. Interestingly, his perspective about this matter is different – not only satisfying his yearning, sex is also a way allowing him to deeply connect and communicate with his partner.
Even though he has a great passion for sex, he does not the type getting involved in plenty of one night stands like how people usually think. He has full of thoughts about it, but he only wants to enjoy the lovemaking with the one he truly loves.
Along with his deep emotions, Scorpio man takes advantage of his sexual energy to tune in to his loved one.
Undoubtedly, he expresses his true self best within the bedroom.
See our article here on what attracts Scorpio men if you want to know more about winning his heart.
#5: He is loyal and protective
The Scorpio male will do everything in his capacity to make you feel secure when he falls for you. He is infamous for his fierce loyalty and protection, so undoubtedly he will stand up for his important person.
Not only to the woman he loves, but he's also protective to all people he is closest to.
No matter which situation you are in, this guy will make sure you're well taken care of and a part of him wants you to know he always gets your back.
Besides, he is extremely loyal in love.
Scorpio man takes love very serious – once he's in a romance, he will certainly prove his devotion and faithfulness to you every single day. As long as you're his true mate, he won't hesitate to hold your hand in public. You never have a dull moment when being with him because he stands by your side and shows great support to you 24/7.
Due to his big love for you, he expresses too much concern which later may lead to jealousy and possessiveness.
In Conclusion
Generally, how does Scorpio man show love?
You already know that this is an affectionate guy in love and he craves for physical intimacy. The truth is – his sensuality drive is incomparable and he is eager for sex more than anyone else in the zodiac. When he falls in love, an adventurous sex life is definitely a must.
This guy really enjoys passionate and intense lovemaking.
He is certainly not easy to figure out, however. Due to his personality traits, it's a challenge to get him to open up and put his trust issues aside. It usually takes him a period to break down his guard.
The moment he willingly shares his emotions, fears, and happiness to you, then mumble to yourself that he already has feelings for you.