The Scorpio female has a fascination air of mystery and keeps an intense eye on people approaching her circle.
She will read you from head to toes, so you shouldn't behave or act like someone else.
If you want to become the best match of a Scorpio, then you must accept the fact that she will constantly test you about everything. Being her potential partner is not easy because she is not the type falling in love quickly and expects someone who can stay with her forever.
So, how to attract a Scorpio woman?
This lady feels attracted by unsolved mysteries. If you reveal too much or play up your securities, then she won't stick around for too long. Let her discover exactly who you are in a natural way!
Men who are ambitious, determined, self-controlled, confident, and sexual confident will certainly win her heart.
6 Easy Tips to Make Her Fall In Love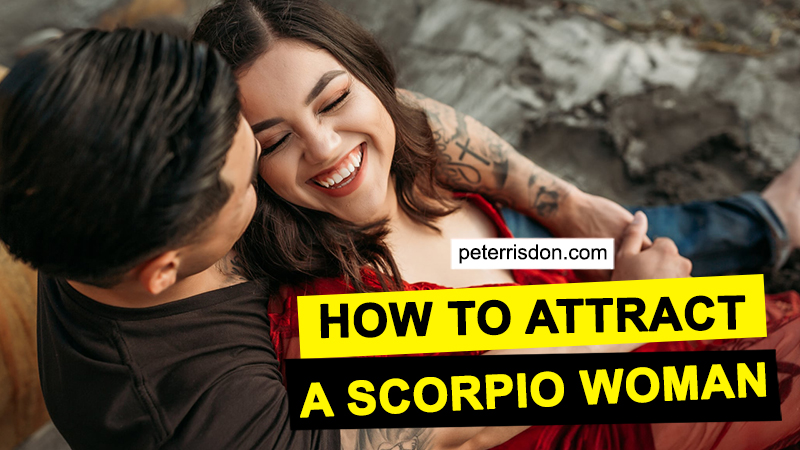 #1: Show your respect
Remember not to approach her too soon or too strong when you two have yet known each other for too long. At first glance, Scorpio woman is unapproachable, so forcing her to talk to you is not a good idea.
Instead, simply catch her attention with your sensual stare and then leave her in her own space to naturally grow interest to you. Don't shower her with touches until you feel her desire. She will say no to anyone who acts impulsively, therefore.
A relationship with the Scorpio female must be built from the foundation of trust and patience. Rather than sentimental or cutesy signals, you should display more gestures of devotion so that she can be assured about your feelings.
Be your truest self, but don't make her feel you're either self-pitying or overconfident.
#2: Support her emotionally
Another good way to attract a Scorpio gal is to watch her back most of the time.
She is an intense, serious person who can get pissed off over a joke when struggling with problems. Don't try to tease or make her laugh in those situations as it will never work out.
Indeed, Scorpio woman loves to stay with a man who gives a great care to her inner needs. Make sure you get her back whenever she's in the ebb and flow – more than questioning, it's better to show your understanding and give her space to solve problems on her own.
When doing anything, this lady is much focused and has a pragmatic view. She finds it hard to resist guys determined and productive.
#3: Make her guess
One significant thing when you start chasing a Scorpio is to not telling all!
The woman born under Scorpio sign is often drawn into men mysterious. Don't spill everything on the very first date; in addition, we advise you not to reveal your dating history. She may be horrified if you even mention about sexual secrets – this will make her question if you'd treat her like that in the future.
With this curious lady, you have to keep her guessing. Be a discreet man who is completely faithful to her, and she will fall head over heels to you.
Here are few things you should follow if having the first date with Scorpio woman:
Look straight to her eyes for clues of her interest for you
Tell her about your achievements at work and life goals
Respond to her suggestive looks and body language as well
Keep the conversation flowing comfortable and excited
Wear gentle cologne
In this case, Scorpio woman can match well with Sagittarius man because the archer is very good at preparing surprises and keeping you guessing all the time.
#4: Show your stability
Scorpio is a fixed sign, so Scorpio natives are loyal and committed in love relationships. They are not the one-night-stand type; actually, they only get involved with the persons who are not hesitant to make the commitment.
Like Taurus and Leo, Scorpio woman craves for a built-to-last relationship. If you show no sincerity while chasing her, then don't expect her to open up fully. She will only display her true vulnerability if there's a bond of trust between the two of you.
Never do anything make a Scorpio feel hurt, or she will take a revenge on you.
Bring this gal to somewhere with real atmosphere in the first date. As she thrives for a place with a sense of the clandestine, a place like a speak-easy will stir up her excitement.
#5: Be gallant & romantic
This woman is greatly impressed by the chivalry. Though she seems independent and cold, she still loves to be with someone who can treat her as a true lady. Compared to other zodiac signs, she is the most passionate.
If you want her to fall for you, then try to be more gallant.
Besides, the Scorpio female is definitely a romantic; nevertheless, her view about the romance is not as typical as you may think. Indeed, it has to be thoughtful and classy – most of all, it must show your sincerity.
Do not show up in front of her house with a big bouquet of roses or any run-of-the-mill stuff as those are clique. Think harder and plan for something extremely special for her, and high chances you will win her heart fully.
#6: Be yourself
Always be true to a Scorpio – anything not absolutely genuine is for sure a lie, she believes. Therefore, don't pretend to be anyone else; instead, just be your truest self for an opportunity of winning her over.
Even when you two are in a serious relationship, she can immediately walk away if finding out you betray her.
Final Thoughts
In general, Scorpio woman make a loyal, fascinated, and dependable life partner.
Not only a super supportive lover in the daily life, she is also an incredible love mate in bed. Men find her irresistible because of her stunning looks and magnetic characteristics. For sure, she looks like a million dollars!
When it comes to love relationships, she is loyal and trustworthy; shortly, she is everything a man could ask for in a woman.
Leave a comment if you have any question about this topic!