So, you've meet a man with Sagittarius sign and you quite like him.
Congrats!
It's such a great thing when you can understand your feelings. However, more than the excitement, you may feel confused.
After all, you don't know what he thinks about you.
Of course you can observe him as much as you want, but you'll soon realize that you don't know anything about him.
What does a Sagittarius man do when he likes you?
What should you look for to figure out if he has special feelings for you?
If you are interested in astrology or horoscope, then you'll find the simplest way to win his heart is to gain insight into his zodiac sign.
Brief Introduction about Sagittarius Man
The Archer in reality is an optimistic, fun-loving, open, romantic, and cheerful person who enjoys discovering new things in life. His desire is to live a life to the fullest; thus, it's no surprising at all when he tends to be extremely passionate for adventures.
He is best known for his honesty, wisdom, empathy, and generosity,
This guy is totally in tune with himself and always gets aware of all the things surrounding him most of the time. Do not think that you can fool him because he rarely pays attention or cares.
In order to fulfill his dream of finding the true meaning of the universe, he can't help but studying and exploring something new. The only issue with Sagittarius is: he feels bored easily.
When looking for a love mate, he will avoid women close-minded or stuck in their ways. Don't expect him to wait until you change. The truth is – he has no patience for that whatsoever.
Being in love with a Sagittarius man is interesting.
You never find a dull moment as he always gives you full attention and comes with special and joyous ideas when you two are together.
When does a Sagittarius male chase you?
If he realizes that you are ready to put everything behind and indulge yourself in his world, then he will make the move. He expects you to become his partner in crime, travel, and love; if possible, both can conquer the universe.
3 Most Clear Signs This Guy Falls Hard for You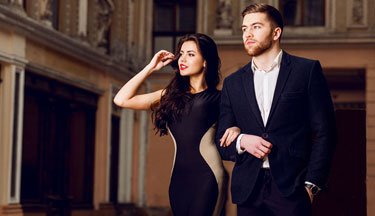 So, what does a Sagittarius man do when he likes you actually?
How can you be sure about a Sagittarius guy is serious about you?
I've listed some obvious signs helping you understand his feelings and affections towards the person he is into truly.
#1: He is honest and even blunt
This guy is known for his frank and blunt approach when it comes to conversations and interactions with others.
If he likes you, he is especially more honest to you. Not pretending as anyone, he confidently shows you his true self and his real personality. Before starting a relationship, he believes that you need to know and accept all of his wild loving nature.
The way he approaches his crush is pretty romantic.
He will suddenly confess his interest in you on social media or take you on adventures in order to make sure you impress and feel his attention as well.
#2: He compliments your intelligence
Widen your knowledge and let Sagittarius know how smart you are.
Have no idea of how to turn on the Archer?
In fact, he easily gets drawn by the intelligence of a person. When he feels obssessed with you, he will try to make as many brilliant conversations as possible with you to get to know you better. Expose your intellect on various topics and you'll receive a lot of compliments on your comprehension.
This guy wants to be with someone who can discuss with him about current affairs, world events, and so on. Be forthright yet also flexible when expressing your opinions in any circumstance.
#3: He asks you to join him on wilderness adventures
As I mentioned earlier, your Sagittarius has a big love for adventures, all kinds of outdoor activities, and sports.
One of the sure signs a Sagittarius man likes you is when he suggests you participating in his active lifestyle. He always enjoys weekend hiking or camping trips with his loved one. Sometimes you can ask him to have long walks or early morning jogs…I bet he surely loves that.
Summary
Dating a Sagittarius man will bring you a lot of fun!
Because of his open-minded lifestyle and love for freedom, it's hard to know if he's ready for a long-term committed relationship.
Make sure you already check signs a Sagittarius man is falling in love with you.
Let's notice if your love interest put any similar signal on display. When you are certain about his feelings for you, don't hesitate to embark on a dating adventure with him.