Mysterious and cold, Scorpio man is surely the private type; however, once you can get him under your spell, you will have yourself the most romantic lover in life.
So, how Scorpio man express his love?
He is affectionate and prefers physical intimacy in a romantic relationship. Since his zodiac sign is one of the most sensual signs, he has a huge need for sex. Once falling in love, he expects some intense, passionate love-making sessions.
This guy is not easy to figure out because of his secretive nature. It takes him a long time to really open up to someone; yet, the moment he does, he dedicates his whole heart.
For more info about him, please keep reading!
Scorpio Male Act When He Falls in Love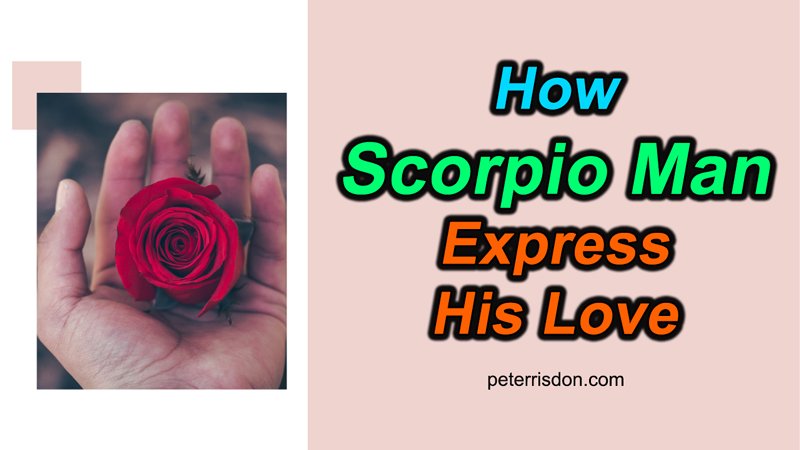 #1: He introduces you to his family
Just like Virgo man, the Scorpio male also values his family a lot.
As an introverted, he doesn't allow people to enter his inner circle easily unless they can win his trust and make him feel extremely safe. Only his family knows his true self well; therefore, one typical way for a Scorpio to show his love is to take you to meet his family and friends.
Don't think a pool party or a BBQ with his parents is casual; actually, having his invitation is a sign of love. Make sure you accept it with grace and feel more confident with this positive sign from him.
If he truly loves you, he'll want you to be in his inner circle.
#2: He is considerate of you
Due to his Scorpio male personality, he sometimes comes of as a self-centered and rude person. Not really mean to behave like that, it's just a part of his nature – he can't help thinking firstly about himself, what he likes and feels, and how things affect him.
Before knowing you, his priority is the self!
In case you're looking for examples about Scorpio man being in love or showing you love, remember that he is considerate to you. His act will be more selfless when he's around you, like picking up some food for you without getting asked or anything else that can make you smile.
Let me remind that your Scorpio will never considerate in the bedroom; instead, he will be more passionate to you since he values intimacy.
#3: He shares the same emotional level with you
Though Scorpio man is emotional, he rarely shares or expresses it openly. His mysterious nature is one of reasons making him keep the feelings in control of all times.
It's not normal for him to go out of his way revealing and sharing his innermost thoughts to others, even if they're his family and close friends. Hence, the moment he tells you sincerely about how he feels and thinks, this means you've successfully captured his heart.
Scorpio is always a sign holding secrets, and probably this is the result of his trust issues.
Find out what he wants to hear most from his lover here!
His major life fear is being betrayed or cheated on. Don't expect him to show off his relationship on social media as he's the type keeping his business to his own. If you want a partner who never unveils your secrets to anyone else, Scorpio man is an ideal option. He's likely to put everything under wraps!
Sharing his secrets to you is a sign he loves you!
#4: He is possessive and jealous
When a Scorpio man is in love, he will certainly display his ownership towards you.
As soon as committed his love to you, he tends to keep you close most of the time. Since he values loyalty and scares of being played in love, you will find him a little jealous or suspicious over small things and call you regularly. He takes any possible chance to investigate you, in general!
This is when his negative trait starts showing up as he can't help asking where you are going or who you have been with. Ruled by emotions, he's unable to fight against the fear of losing you and he later will regret about his behavior.
Scorpio male doesn't like playing games because he might be jealous over smallest things. Never thrill his jealousy or he'll lost his confidence in you – being with this guy means you must provide him reassurance.
In Conclusion
Now you already know how Scorpio man express his love!
His main language of love is physical, which means he enjoys showing his feelings and passion through physical intimacy and sex more than anything. Don't refuse him, or he may search for gratification from else where.
A relationship with this male is passionate and possessive. He's totally okay with your female friends; nonetheless, the drama will begin if he sees you interacting with other guys aside from him.
His jealousy becomes irritated as time passes, so learn ways to handle it.