Find yourself get attracted to a Scorpio man?
Despite his upfront honesty, many think it's hard to date one because he's too complicated. The way he operates in love and relationships is different from others, and you need quite a long time to completely understand that.
He's claimed to be a confused man, but it doesn't mean there's no way to read his mind.
You're not alone if wanting to gain better insight into this Scorpio guy!
For those curious about him, check out the truth about Scorpio man in this article; maybe you'll get the answer for why he's strangely attractive.
Things to Know about a Scorpio Male in Relationships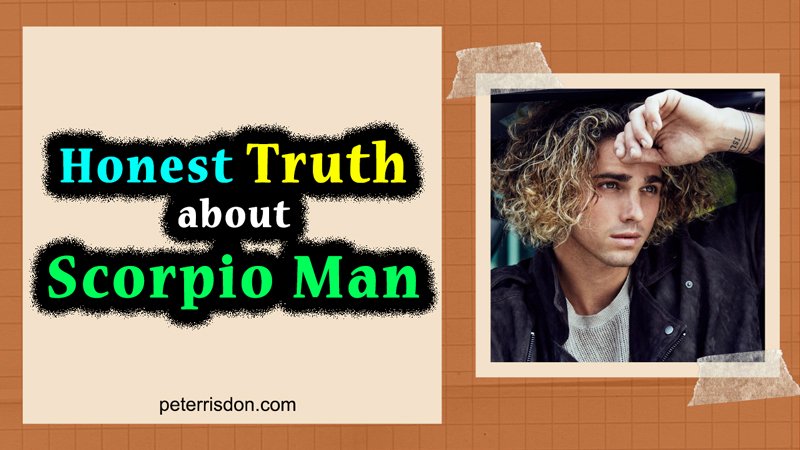 Is he the type of man that will tear out your heart when you two are in a relationship?
The answer is absolutely no! If you truly want to win over his heart, then please ignore all the preconceived notions that you just hear from others.
Before getting involved with a Scorpio, here are a few things you should know:
#1: He is unapproachable
Well, your Scorpio man seems not friendly and easygoing at first glances; in fact, he is very picky about his social circle. If he knows nothing about you, then he'll appear aloof or standoffish. Don't quickly give up on him!
Give him a chance to open up and feel you better, even though getting to know him may take quite a long time. Be patient and willing to wait for him a little longer, the outcome will be rewarded.
#2: He is intense and passionate
Talking about the intensity, no zodiac signs can compare with Scorpio. Ruled by Mars and Pluto, they radiate the alpha energy that cannot be pinned down.
It's not difficult to figure out whether a Scorpio guy likes you or not – if you feel him staring right into your soul, then 100% you are in his presence. If not interested, he will not look at anyone else intensely.
Moreover, the love with this man is always full of passion; especially he is extremely passionate in bed. For girls who've been attached to the Scorpio male, I know you can't disagree with these two accurate qualities.
#3: He is intuitive
When he has special feelings for you, he's capable of sensing your inner thoughts and emotions. Actually a Scorpio man doesn't do the mind reading; it's just that he is intuitive in nature.
No matter what you say to him, he can intuitively sense the feelings of your deepest without speaking a word. Put it simply, being a water sign gives him this incredible ability.
Have you ever heard the term "spidey senses"?
Now add the "scorpio senses" to your knowledge!
#4: He is jealous and possessive
I hate to admit but Scorpio man is an extremely jealous creature.
Keep reminding yourself that he never takes relationships lightly. Once falling in love, he falls hard and passionate; at the same time, he expects the partner to provide him the same amount of loyalty and affection in return.
His jealousy and possessiveness can bring lots of arguments to the relationship and make his beloved frustrated. However, those tendencies just appear when he feels insecure and suspicious with the commitment. He does have anxieties in a love romance like anyone else, but he chooses to express it obviously rather than hiding away.
Never think of lying to a Scorpio because he's the expert at spotting the lies.
#5: He is so competitive
Depending on your perspective, this trait can be good or bad…but in general, the Scorpio male is competitive. That's why he always has the "win at any cost" thought in his private life and professional life.
The bad part here is that he can't make wise decisions sometimes.
When it comes to love relationships, your Scorpio man probably becomes aggressive and his "win at any cost" approach is the main reason. His aggressiveness will be much worse if he feels so obsessed with you.
#6: He is the introverted type
Unlike the Leo guy who craves for the center of attention or wants to snatch away your limelight, Scorpio man finds it comfortable just to stay in the background discretely and quietly.
He doesn't want to stand out too much; instead, he prefers observing everything from afar. Your Scorpio is the introverted person, but it does not mean he is unable to be social. The truth is that he expects his circle is small and intimate!
Why would he hold a large crowd of friends without any true friend?
He is not the guy you will frequently see at parties; indeed, reading a good book or watching a movie at home is more interesting and satisfying to him.
#7: He is independent
Of all signs in the zodiac, Scorpio is fiercely independent; thus, expect your man to be full of independence. He can't accept the notion of someone taking care of him and also won't allow it to happen.
If you want to attract a Scorpio man romantically, then never act clingy or needy especially during the courtship stage; otherwise, he will be turned off immediately. He wants you to be as independent as he is.
He is stubborn at times; more than that, he feels offended if others try to control him.
#8: He is a good caretaker
We already reached the best trait of a Scorpion man!
When you're paired up with him, consider yourself lucky because he makes a very nurturing and supportive boyfriend. However, not all of his caretaking behaviors are admirable – since he is jealous and possessive, the way he protects his loved ones can go overboard sometimes.
He even mistakes between caring and controlling.
The truth of a Scorpio man being a good taker is because of his yearning for control. Since he wishes to be the one taking charge of the relationship, he feels anxious and stressful if knowing his mate is more successful than he is.
#9: He is emotionally distant
Like Capricorn, guys born under Scorpio sign give off a cool and distant look.
It's not that he wants to build a cool image; in fact, being emotionally distant is a part of his personality. The best way to stop your man from pulling away from you is to start a deep conversation in which you tell him your thoughts about his issue.
Since he is intuitive, he can easily figure out your frustration with his disappearing acts. All you need is to give him space and time so that he can step back for a moment; until he feels completely ready, he will show up again in your life.
Trust him and you'll get over this obstacle.
A Scorpio man cool and distant from you has nothing to deal with him not caring about you.
#10: He is loyal
For girls who are seeking a partner who will not play behind your back, the Scorpio male is surely a good option. He is faithful to the core and never cheats on you. As soon as you successfully develop a strong emotional connection with him, he will be yours forever.
Before getting this guy to fall head over heels, please note some following caveats:
He demands the same loyalty
He can't help but feeling suspicious of you most of the times
He tests you a lot
Though making him fall in love with you costs much time, the wait is worthy as you'll be with a protective, caring, and devoted boyfriend.
#11: He is mysterious
Another essential trait about the Scorpio guy is that he's super secretive and mysterious; that explains why it's difficult to tell what is going on in his head.
Due to his mysterious vibes, some women claim him having a "bad boy" image. No one can actually resist of a Scorpio because he is magnetically seductive and carries a highly sexual energy.
#12: He is direct to the extreme
Similar to Sagittarius, Scorpio man can be brutally direct.
He believes that two people in a relationship should not hide anything from one another; therefore, he is very honest and instantly lets you know about his thoughts. There will be no beating about the bush or mind games at all!
When this guy is in love with you, he will look for an ideal moment and go straight about how he feels towards you. The key is to be patient until he completely opens up to you instead of pushing or rushing him.
The Bottom Line
Dating and loving a Scorpio man can be complicated if you don't understand his characteristics well. The truth is that he is not the type of guy easy to get along with due to his mysterious air.
Don't think that he is different!
Be patient and never give up on him too quickly; soon, you'll realize that he's the man who falls deeply, loves hard, and hurt severely.
If you found the article of truth about Scorpio man insightful, please comment and share.