Are you seeking a way that can shed a light on your love life?
Not requiring the date of birth, a palm reading love line will reveal everything regarding yourself in the love & romance field. If you want more in-depth information, then simply consult with a professional palmist.
However, you can practice reading your love line for basic ideas, believe it or not.
The love line is one of the major lines in palmistry and very easy to spot – it is horizontally below your fingers. Also known as the heart line, it's a big indication of what you can expect from your love life.
Learn about the love line will help you understand your emotions better and gain an insight of how you are in love.
Where Does Your Love Line Locate?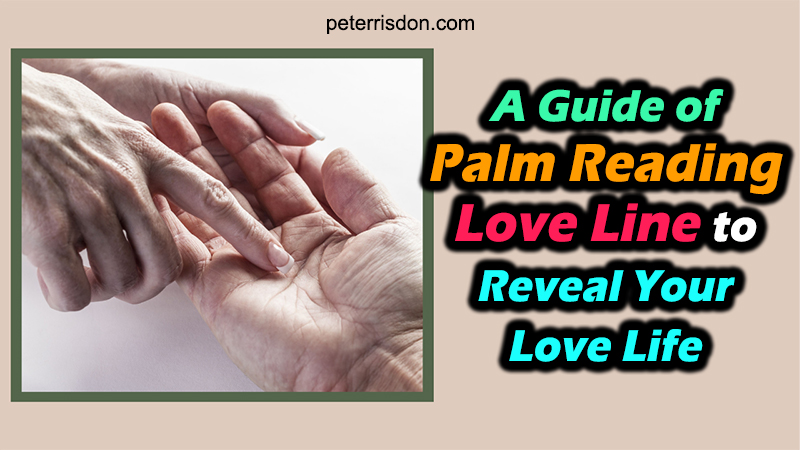 Again, the love line is also called as the heart line and is one of 4 most major lines in palm readings. About the location, this line can be found above the head line – starting from the edge of the palm below the little finger and stretching to under the middle or index fingers.
By analyzing the heart line on your palm, the palm reader can reveal your attitude towards love matters and whether or not you have a deep affection for your current partner. Also, this love line can give you a peak into your emotions (even if it's complicated) and quality of love.
For those who are wondering if you will have a good, long-lasting relationship and if your marriage life will go smoothly, don't hesitate to find the answer from your love line.
Do you have a good heart line?
You can tell you generally have a blissful love life if the line on your palm is curved, unbroken, clear, deep, not disorderly, and stretches to your forefinger. It's even better if having two or three forks at its finish point – this indicate a responsible, good hearted partner who values friendship and is surrounded by friends.
What is the True Meaning of Your Love Line?
As I just mentioned above, this line itself is the best indicator of one's love life. If you want to understand this aspect in a more detailed, precise way, don't hesitate to ask for a palmist's assistance as they won't analyze your love line solely. Indeed, they will observe other factors and then come with the answer for your emotional stability, ability to love and be loved, and so on.
According to palmistry guide for new practitioners, not everyone shares the same heart line – some may have deep yet short line, some have long yet faint line, and some have broken line. Each type of the love line holds a specific meaning; thus, let's figure what your line tells about you:
If a person's love line spreads across the base of the palm entirely, this is clearly the indication for someone who tends to look for a mate having a good status in life. Due to this, they give their partner a lot of regard and respect. They're likely to control their strong emotions well if having a straight line parallel to the head line.
If your heart line goes downwards and touches the life line, you will soon suffer from the heartbreak.
Palmists claim if a curved heart line reaches steeply below one's index and middle fingers, that person probably has a strong desire for sex.
You seem to have very least interest in love and affection if there's a short and faint heart line on the palm. In case the line is prominent and deep, your affections towards someone are considerably stable.
For people with a long love line curving down at the end, you're a pleaser in a relationship. If you have such this line, you are known as an adaptable person who tends to satisfy others with their expectation. Also, you have a great intuition of reading people's mind. If this line is short, you are more into sexual aspects instead of focusing on the emotional attachment.
Smaller lines stretching above the love line indicate one's happiness in a love romance. On the contrary, if the lines stretch downward, you may be unhappy and suffer from disappointment.
Referring to palmistry, there are other nooks and crannies aside from lines that need to be discussed. Your love line is not an exception! You can practice reading palm for general information; for more details on your future, then ask the assistance from the expert.
Don't expect the absolute accuracy as it's almost impossible!
What Kind of Partner are You Based on Your Love Line?
There are two primary heart line types: curved and straight.
Individuals with a curved heart line are emotionally sensitive and have no problem with expressing their feelings. When it comes to love, they are the romantic kind who opts to make decision with their heart rather than their mind.
On the other hand, people having a straight love line are the practical partner. In love, they will do anything to satisfy their lover's needs and just let the lover take the lead as well as set the pace. Opposite to those with the curved line, straight heart liners are reserved with their emotions and prone to think logically.
Let's find out what kind of partner you are in a love relationship by reading the heart line on your palm:
1. A straight-short love line
Your heart line is considered as a short line if it ends under your middle, ring, or pinky fingers. People with a short, straight heart line are usually those enjoying their 'me' time more than anything. Shy and quite, they need quite a long time to truly understand their feelings before actually showing it emotionally.
Once getting involved in a relationship, you're pretty practical, private, faithful and reliable; at the same time, there's a strong sense of independence in you. When looking for a partner in life, you prefer quality over quantity.
2. A straight-long love line
A long, straight love line is defined as the line stretching across the base of the palm and stopping right on the opposite edge of the hand. If you have this type of the love line, then you're prone to protect and defend what you believe is yours.
You get jealous easily and will never give up on the partner or relationship which is meant to you. No one can beat you when it comes to possessiveness and jealousy; nonetheless, you're loyal to the extreme.
3. A curved love line ending between your index and middle fingers
When your love line is curved and its finish point stops between your index and middle fingers, you're the kind of partner nurturing and very caring. You're good at creating connection with others – this explains why you are often embraced and surrounded by your loved ones (family, friends, and lover).
Referring to the love matter, having this love line means you're generous and forgiving but also oversensitive at certain times. You are easy-going and find it easy to get along with people; however, it doesn't mean you can be dragged in any emotional drama.
Learn to nurture yourself as well as be giving for a good relationship.
4. A curved love line ending under your index finger
You find your curved heart line ends under your index finger, well then you are a passionate partner.
For those who get this kind of heart line on palm, you're described as quintessential lovers who are outgoing, straightforward, and enthusiastic. With your magnetic traits, people often find you charismatic; nevertheless, sometime you may act a bit dramatic.
When you enter a romantic relationship, it's essential for you to open up more about your emotions or you may end up feeling distant, neglected, and isolated. Of all things about you in love, the best thing is you taking the lead as you're capable of taking the lead and maintaining the excitement in any circumstance.
Occasionally, check out your marriage line to see if your married life lasts for a long time.
Final Thoughts
According to the palmistry, lines on your hand are not set in stone. Imagine your palm lines as a mirror which is the best reflection helping you figure out what is going on with your current life and what is in store for you ahead.
Generally speaking, the palm reading love line will provide a glimpse on your love life as well as emotional status. Understanding the hidden meaning of this line will give you a chance to resolve different heart matters and alter your fate.
So, if you're looking for answers about your love life, simply have a quick glance at the heart line on your palm.
Tell us your opinions in the comment!