Palm reading is also called chiromancy or palmistry, and this process has been used all over the world.
Traditionally, it originated in Roman fortune telling and Indian astrology. Therefore, its chief aim is to figure out a person's trait or future through examining the palm of the hand.
Palm Reading
Truly, reading the palms is quite easy and simple.
However, you might sometimes meet difficulties in understanding solutions that you receive from the explanation. Lots of people love consulting about palm reading, and they're looking for a palm reading guide with pictures to know something important.
Here is a basic palmistry guide for you. Take a look now!
Palm Reading Guide Free – Learn NOW!
First of all, you need to know which palm you should read in this case.
Normally, both will be read. Theoretically, the left hand will talk about potential things; meanwhile, the right one will discuss your finished task with these potential things. According to palmists, the left is what God gives you, and the right is what you perform with it.
Then you need to recognize four major lines in your hand.
They consist of heart line, head line, life line, and fate line.
The heart line will mention all matters about your love. In case that your line begins under the index finger, you definitively have a happy love life. If this line is short, that means you have a little interest in romance.
The head line mainly talks about your wisdom and intelligence. If you have a straight line, you have a tendency to structure and practicality. If it's a curved one, you're quite creative and spontaneous.
The life line will show your destiny. This line partly talks about your main character or vital events that can affect your life. In case that this line is close to your thumb, that means you often feel tired and own low energy. If this line is deep and long, you have a strong vitality. If the line has a break, you can meet some big changes in life.
The fate line is similar to the life line, and it mentions matters about the future. With a deep line, your life will be mainly controlled by destiny. If having some breaks on this line, you will be influenced by external forces.
How Does Palm Reading Work?
Relying upon how far back in history we wish to search, interpreting palms might be as old as 3,000 years or 5,000 years. Ancient India initially practiced this special art.
Maybe the most renowned palmist was known as a guy Cheiro. This man read the hands of several reputable people, such as actress Sarah Bernhardt and author Mark Twain, and he was also considered the father of the modern Palmistry.
If we have a strong desire to analyze palms, then it may be an exciting study of people as well as their inner traits. In general, individuals who often refuse to let us take a look at their hands can be the ones whose palms express the secretive nature.
The genuine correlation for anyone between their palms, hand shapes, and lines to their characteristics has never been conclusively proven. Nevertheless, one thing arguing against some validity of the study is that some nurses can look at the hands the newborn kid for the head line (the middle line across the palm).
A significant proportion of children born without the head line is found to have Down syndrome.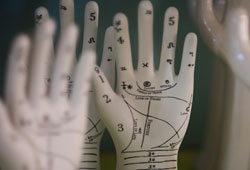 Now, it is time to begin our study of the subject by making use of our own hands for comparison. At that time, the hand used to write is referred as the dominant hand, and it is supposed to reflect our life at the present time. Another hand is often applied to indicate our past.
Palm lines can be shallow or deeply carved into the palm, broken-looking and chained, or even one thick mark. According to Palmistry's theory, the heart line is often closest to the base of our fingers.
Supposedly, any short line below the base of our little finger will denote how many important love affairs or marriages will occur in our lifetime. In case our heart line tends to be broad and clear, then we can possess a firm grip on our emotions and find ways to pursue the one we fall in love with. If it is made of several tiny lines or wavering, our heart could be easily crushed, and we can be astray led by someone we love.
Long to know more?
We are allowed to delve into this subject as deeply as we wish since there are lots of books and online sites available. Of course, people are almost always willing to let us interpret their palms.
If you are going to practice as the promising palmist, rest assured that you know how to do palm reading in the light demeanor!
Understand that Palm Reading (also termed as Chiromancy or Palmistry) has been practiced in the global contexts; hence, work with it in the positive ambiance and never attempt to ruin anyone's essence because of your bias or negativity.
Palmistry Basics Beginners Need to Know
We all know that palmistry (or chiromancy) is a science in which the astrologers read the palms of people for future prediction.
The palm lines are usually not fixed; they change with time in length and clarity, as you get older and experience more. Each line on a person's hand palm has a significant role that can affect every single area of their lives.
Are you interested in studying palm reading?
There are some palmistry basics you need to know beforehand.
Palmistry is primarily an Indian concept that is now adopted by the western astrologers. It has its root in Indian and Chinese astrology, as well as Roma fortune-telling. It's easy to know that the practice of palm reading was very popular in India in the ancient time.
Also, in China, palmistry does have a long history. In this article, we are going to discuss about the art of reading palm; and if you grow an interest in learning palmistry, then you can go online and get palmistry tutorials. Keep in mind that palm reading should be taken seriously.
All the elements in your palm (lines, mounts, marks, fingers, fingernails, etc.) can provide you details about your inner being or character that somehow may reflect your performance in work, relationship, and more.
Palm readings are not necessarily future predictions. Due to your current personality, the reading could give you insights of what is in store for you in the future.
Benefits You Can Get from Palm Readings
If you are curious about how to read your own palm, you should observe the lines in your palm first. Through paying attention to the lines, you will notice little details that can be found. In palmistry, there are mainly four major lines to read that are the heartline, headline, lifeline, and fateline.
You can find numerous tutorials online which help interpreting the meanings of your observed lines. All of the meanings somehow actually reveal an accurate reading which makes you realize certain traits you currently have but do not know about.
Here are some advantages of obtaining palmistry:
It is a great method to help one know about their personality, and you'll be more capable of recognize your strengths and weaknesses.
It issues out every piece of information about a person's past involving the reason of why certain things happen and how do they react on it.
It allows you to prepare for your future. The current dealings you get today enable you to look into the life you have; and with this, you will easily know how to use your strengths in achieving a blissful future.
It lets an individual discover their true character and how it affects their relationship with people surroundings.
Having palm readings is not only good for your improvement in the present and the future, but it can also be helpful if you want to take a look over the past experiences. The details of every past activity let you understand what contributed a lot to who you are today.
You may opt to use any hand that you think is dominant for the reading – you can use the left hand if you are left-handed, and vice versa.
Take a Beginner's Guide to Palm Reading for FREE Online from Today
When we were young, it's obvious that we love predicting our future. Even though some weird dreams may not come true, that can stop us from making effort to foretell our fate. Nowadays, with the support of a popular mysterious art – palmistry – we're finally able to get the future prediction for our destiny.
Learning how to read palms is not difficult; in fact, if you master this area, you can easily tell what your true self is, what your character traits are, as well as your future.
In this topic, we offer all the readers a beginner's guide to palm reading for more useful information. Learning to read one's palms is fun since it helps unlocking your intuition.
Here are some basic steps for the starters:
Have a Precise Look at Your Hand
Do you want to get a sneak peek into the future?
Well, everyone does want to gain insights for their life…but how?
As you may know, palmistry has been around for thousands of years, and it's still popular till today. No matter who you are and where you come from, the palmist can reveal your personality and future just by glancing at your hands and the lines on your palms.
Though it's quite old-fashioned, the palm reading method enables to predict a person's character traits, health, career, marriage, and many more aspects.
Like other form of fortune telling, knowing more details about your hands lets you dabble on the metaphysical side of things. In fact, palmistry (also called chiromancy) not only refers to the reading of one's palm, but it also includes the reading of finger, arm, and even fingernail.
Before beginning the hand palm reading guide, you need to choose the dominant hand to read.
Which hand should be read?
There are actually lots of different ideas on this matter – some people think the right hand is for female and left for male.
Is it correct or not?
As a matter of fact, both of your hands play important roles in palm reading; however, one is considered as the active hand and the other is passive. The left hand usually indicates what you were born with physically and materially, while the right one represents what you become after grown up. So, your right hand is seen as the dominant element in the reading and the other one is for supplement.
Which major lines should be read?
In palmistry, the palmists have stated that there are three chief line to read – Life Line, Head Line (also known as Wisdom Line), and Heart Line. Besides, you should consider other lines, such as Marriage Line, Sun Line, Fate Line, Health Line, and Intuition Line since they are quite essential in palm reading.
According to Free Palm Reading Tutorial, reading the mounts is the next step in this field. Don't think it's hard; in fact, it's pretty easy. Looking at the bottom of each finger, you can see a pad – the other side of your knuckle.
If you want to read the mount, you must observe it carefully and gauge the height: there are three main heights – low, flat, or high. Depend on how well-pronounced the mount appears, you will know what you need to know.
The Venus is the mount under your thumb
The Jupiter is the mount under your index finger
The Saturn is the mount under your middle finger
The Apollo (or Sun) is the mount under your ring finger
The Mercury is the mount under your pinky finger
The Luna mount runs along the outside of your palm
After finishing looking at the palm, lines, and mounts, you should move to the thumb shapes, finger shapes, and fingernail shapes as well.
Normally, the final results are not fixed; it will change when you get older and experience more in life. Don't think that your future is decided by the palm line; actually, it needs your own effort and wisdom mostly.
How to Read Your Own Hands?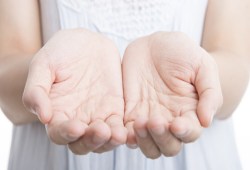 Some characteristics on the hands will stand out more than others. The traits you wish to interpret will become the reference for analysis. Observe carefully the front and back of both your hands – which trait stands out more than the rest?
Now, you have a reference, what does it look like? Is it large or small? Is it temporary or permanent? What color is it? Where on the hand does it appear?
According to Palm Reading Guide for Beginners, the dominant hand shows what you actually do with the possibilities you were born with and gives details about your present circumstances as well as recent choices. However, the non-dominant hand reveals the energy you were born with your strengths, potential, weakness, etc. and provides the background for the details of the active hand.
Significantly, some palmists stated that your passive hand never changes, while the dominant one will always be changing depending on your decisions and experience in life.
Comparing the size of two hands, one will look slightly larger than the other. The larger hand is your active or dominant hand; and the smaller is the non-dominant or recessive hand. The palm shows all details of an individual's perspective, and the back of the hand indicates others' viewpoints.
How many major lines when doing Palm Readings?
From the traditional palmistry, there are four particular lines representing the difficulties in each area of your life – Life Line, Head Line, Heart Line, and Fate Line. Also, in case you want to know more about your future marriage & relationships, children, travel, career, and money, you should take a look at the Health Line, Marriage Line, Success Line, Children Line, etc.
Reading your hands might not tell you everything the universe has arranged for you; actually, the process of reading palms gives you a glimpse at your personality as well as the way you interact with the world around you.
For instance, the lines, mounts, hand shapes, etc. can't tell if you will be a CEO or get together with your celebrity crush someday, but it will let you learn more about yourself. Focus on the major lines and markings to predict your own future.
Gain clarity of finding your life partner name with palmistry help !
Steps to Read Others' Palms Effectively
First of all, you're required to understand the basics of Palm Readings. Informatively, the ancient art has its roots in Indian Astrology and Roman Fortune Telling as well. Its aim is to characterize human beings based on their natures and future prospects.
Whether you desire to become the inspirational palmists or just want to play it for fun, it is required to read others' palm lines with honesty and respect. With no sign of bias, ones can learn lots of insights about their friends simply by holding their hands.
Then, choose a hand to read!
In most cases, both the two hands ought to be taken into account. However, there exist some common beliefs about the two hands' significance that are worth being taken into account. While the right hand is thought to be read for the right-handed people, the left one is for the left-handed individuals.
Besides, the right hand is also utilized for female whereas the left hand is interpreted for male, initially. In case of the dominant hand (the one used most), it refers to humans' past and present life while the non-dominant one alludes to their future growth.
Next, interpret the 4 major lines on palm namely Heart Line, Head Line, Life Line, and Fate Line. As their names have stated, the Heart Line signifies our love and relationship located at the top of the palm. In that sense, the Head Line is about our intelligence and brainpower situated in the middle of the palm.
How about the Life line?
It is at the bottom of the palm and alludes to our physical health and vitality. Especially, notice that not everybody has the Fate Line that is linked to a person's ability to control his or her fortune.
In order to decipher and evaluate the lines exactly, the so-called Palm Readers are required to keep eyes on the lines' shapes, length, and depth. For instance, the deep and long Heart Line implies to the happy commitment in the long run with the true love whereas the short and broken Heart Line may indicate the broken relationship associated with emotional damage.
Get a Free Palm Reading Tutorial Online
Palm reading, otherwise called palmistry or chiromancy, is a unique method practiced all over the world. Its objective is to evaluate one's character or future by analyzing the palm of their hand.
If you find yourself interested in palm line readings, you can ask several genuine palm readers for a free session. Or, you can learn to read your own hand with a palm reading tutorial online.
Get ready to gain insight into your destiny, people?
You probably know that every part of your body somehow reveals a lot about you; for example, the eye color can tell a person's personality. Thus, there's no exception with your hand palm. A palm reading can describe many aspects related to you that help you get a better self-understanding.
The hand shape, lines, mounts, fingers, and even color of your hand let you discover your best skills, strengths, and weaknesses that can affect the success in life. Not just for yourself, palm reading is also a great way to get to know others better, such as your friends and family.
When you learn to read palm lines, you must combine all of the elements you see in both hands for the most accurate, wisest analysis with the most benefit.
The more you practice, the easier palm reading becomes.
As the Palmistry Basic Guide Online mentioned, an individual's palm has four major lines that are heart line, head line, life line, and fate line. There are also several small lines called palm reading marriage line, money line, sun line, children line, etc.
You need to be at least 18 years of age to understand your hand palms as well as read the lines. Each line is believed to present a specific area of your life.
For instance, how long you will live, how your future relationship will be, how healthy you will be, and so on. Generally, understand the palm lines clearly, you can tell so much about what is ahead.
Before reading the palm, you should choose the right hand to read. In palmistry, it is traditionally thought that:
For females, the right hand is what you've born with while the left is what you've accumulated throughout your life.
For males, it's the other way around – the left hand is what you've born with while the right is what you've accumulated throughout your life.
As a matter of fact, both of your hands play vital role in hand reading; however, one is dominant and the other is passive. You can choose whichever hand is dominant to be your present or past life; the non-dominant hand then will represent your future life.
There are different schools of thought on this matter – some state that the left hand shows potential and what could happen, not necessarily what will be. Till today, many people use their right hand as the dominant hand in palm reading, and the left one for supplement.
Quickly get yourself a palm reading tutorial online to keep a positive outlook on life, develop a good personality, learn more about how to related to others well, and know what you should pay much attention to.
Is Palm Reading Accurate?
If feeling curious of what the palms say about you, it's stimulated to experience the uplifting session of online palm readings free.
The accuracy of the ancient practice has not been scientifically proven. Nonetheless, there exist a huge number of followers and practitioners that spend the lifetime studying the meanings of the palm lines.
Reading the palm has become the big magnet for all individuals to get attracted.
Just take minutes to answer a series of queries based on the palm lines regarding destiny, love life, brainpower, marriage, children, wealth, etc. It's fun and easy to get a personalized Palmistry that is quite accurate for reference.
Palm Reading and Its Secretive History
Palmistry or Chiromancy has its long and different history. Of course, we can not know exactly when palm reading started. Nevertheless, some theories supposed that this divine form dated back to more than 5,000 years ago.
From India, the art of palmistry has spread to China, Tibet, Egypt, and also Persia. Others believed that Chiromancy spread to China in about 3,000 BC and recently was rediscovered by the Western world.
Historically, Palmistry was known as an art of spiritual divination.
Though palm reading is still applied in this way, some modern Palmists tend to combine it with elements of Psychology with the aim of getting a better understanding of an individual's motivations via his palm.
In today's world, there are different schools of thought relating to Palmistry. Some conflicting interpretations may be found for each line on the palm.
Numerous schools of thought have a tendency to stem from the Classic interpretation of the hand whilst others tend to branch out into varied analyses.
Palmistry is a proof which proves that everybody has different life, because we all don't have the same palm prints. Many people think that they can make prediction through palmistry but actually it just reflects our thinking. It can tell nothing about our future.
There is a connection in both our mind and body through these hand's lines, it affects our ways of thinking habitually. If we can understand and distinguish clearly between positive and negative thoughts, we can shape our own destiny.
Due to the changes of your though, the palm prints can make a distinct change in as little as 3 months.
Accuracy of Palmistry in Modern World
Palm reading or Palmistry is known as the ancient and complicated art. In recent years, it has merged with the scientific approach. Lots of people don't hesitate to spend years or even their lifetime learning about this complex form of personal insight.
Nonetheless, before interpreting lines on palm, we are advised to learn about the basis of Palmistry first. Actually, the basis of this art can be learnt very easily and quickly. We are just required to have an open mind and a strong desire to learn.
Understanding of the palm lines' layouts and the belief in what these lines symbolize will get yourself engaged in palm reading comfortably.
As the ancient practice, Palm reading inspires the historic sense that turns to be highly applicable to the modern world. Provided that the so-called Palmists are trained at the good psychic resources or courses in standard demeanor, they promise to offer the genuine readings that enable the seekers to obtain the better self-knowledge as well as insightful future predictions.
In general, there are 3 must-read lines on palm including Life Line, Head Line, and Heart Line that together make up the cosmic overview over a person's life patterns over time.
Please note that the palm lines can be changed and reformed as you progress in life!
While the Life Line denotes your vitality and physical health, the Head Line is about your belief, communication skills, and attitude towards life.
How about the Heart Line?
Surely, it represents your emotional reactions when dealing with matters of the heart. Besides, there are lots of minor lines that will be considered due to the seekers' demand such as Children Line , Marriage Line, Fame Line, etc. The stronger and deeper the lines are, the better! For instance, the deep and vivid Heart Line reflects the warm and energetic passion for love.
If feeling doubtful about the accuracy of Palm Readings, rest assured that you can contact the genuine palmists via the gradual and cautious researches!
Only the authentic readers can exactly interpret the meanings of the lines via the full attention to their shape, length, number, and depth as well. Nowadays, more and more practitioners like offering the spiritual session at parties for entertainment. That brings the ancient practice closer to the modern public.
Many people preferably have their palm lines read for fresh perspectives about various sorts of life.
Beside the honest interpretations, it's offered comfort and guidance for FREE that keeps your wallet safe. Be entertained soon!
Does Palmistry really Work?
Although in some cases, some people have found their palm interpretations accurate and insightful, this divine art has not been scientifically proven.
Regardless of the fact that the hands have been studied for more 3,000 years, it was truly less than 150 years ago once some scientists explored that hands are associated with the brain.
Hence, dozens of research papers have actually been written about hands and their mysteries.
The accuracy of palm reading is still a matter of debate. It depends much on the Palmist's gifted intuition and her great skills. Because lines on palm may change with time, the readings are sometimes not as exact as we expect.
What is shown by hand is truly the natural talents and ability of a person.
Can chiromancy prophesy our future?
As mentioned, though the fingertips never change, the lines and markings will alter throughout our lifetime. When hands are interpreted, we will be seen as we are now, and how the past events could influence our present.
Although some palmists do make prophecies, any prophecy from the hand is only potential.
Of course, most of the predictions are based on the direction we are doing currently. It will not be set in stone since all of us have free will to make changes and choices in our life that shall affect our future prospect, change our destiny; and our lines can alter accordingly.
Which hand should be used to read?
Palm reading or palmistry is known as an art of divination that makes use of the lines in an individual's palm to get information about his life and personality.
More interestingly, Palmistry is also considered as Chiromancy, coming from the Greek word "Cheir" with the meaning of hand. Some individuals suppose that something which may be traced back as many years as Chiromancy must be valid.
When it comes to this question, it is necessary for users to study BOTH hands.
Traditionally, if we are right-handed, a so-called Palmist can state "The left hand is what God gives us while the right one is what we do with it" In fact, this is a bit misleading and simplistic. The lines on both hands can change; thus, our destiny can be somehow altered.
Of course, the hand we use to write is our active or dominant hand – symbolizing our conscious, what we have actively developed and our public face. On the contrary, the passive hand is more about our subconscious, our inner instincts, latent abilities and private face.
Therefore, it is always a wise idea for us to look at and compare both hands so that we may see our "whole" clearly.
How Accurate is Palm Reading?
Everyone might get a quite clear understanding of palm reading. It can be seen as an art in which someone else can totally learn it with an interest. The simple principles of carrying out this practice involve mostly the act of revolving the palm lines in your own hand as well as other noticeable traits like size and shape of the hand.
Guess what?
It's stated to be absolutely possible to learn what those specific types and traits of the hand and lines might represent. Most palm readers would base on them to provide the suitable insights into any certain respect of a human's life.
Then how accurate is a palm reading?
There's no specific level of accuracy when it comes to this divinatory method. Nowadays, a lot of readers would make use of the cold reading techniques which can help them to be able to use some good hints and clues to give the accurate information about the querent.
Thus, you need to be more careful about being duped out of money like those fraud psychics would do. When you decide on this palm reading, please take some time to do some researches about it, or on the cold reading.
However, a palm reading or a palm reader does have some good points themselves.
The first ever thing we usually get benefit from is the high comfort and the appropriate guidance. You will be honestly listened and get helped with the final answers to different questions you've been holding for a long time.
A palm reading would be more accurate when the reader is willing and honest. If they're truly like that, then you'll be very likely to receive a few fairly detailed interpretations based on your lines on hand as well as the enlightenment into different subjects taking your most concern.
The Lines in Palmistry:
Heart line: it's seen as the most noticeable one on your own palm, since it relates a lot to your own emotions. It helps to suggest how each person handles his own relationships.
Head line: the Head line is located below the Heart line, and it helps to suggest something concerning the intellectuality of an individual.
Life line: this is the third most noticeable one, and can suggest the real nature of the life held by the individual.
Marriage line: the number of lines a person has can indicate the number of relationships he's going to have in life.
Fate line: this is the representative of every event and circumstance that might take place during a person's lifetime.
When practicing this divine art, some people can wonder whether or not its results are accurate and can be put into reality.
Actually, the precision of palm reading is the matter of debate. In the simple word, having our palm interpreted does not signify what our chosen Palmist has said to us is totally accurate. However, there are some examples when a couple of people have found their palm readings correct and meaningful.
Bear in mind that the interpretations of a Palmist are very inconsistent, and in some cases, their answers may truly freak us out. Therefore, we are strongly advised to live our free life as we see fit, and not let anyone tell what we are not really ready to hear or give us hope on something which can never come true.
If possible, don't forget to put trust in our instinct before we intend to put our palm interpretations into the reality.
Tips to Read Your Own Palms
Palm reading now is practiced around the world. The objective of this is to have a fully evaluation about a person's character or future by reading the lines in their hand. Take a little bit of your time to understand how it works as it's a fun way to impress your friends or relatives.
Deciphering the palm prints
Pick a hand. For female, the right hand is what you're born with. The left hand is what you accumulated in life. For male, it is contrary to female.
Distinguish the lines. There're 4 major lines: the heart line, the head line, the life line, and the fate line.
Interpreting the hand
Identify the hand shape. It is divided into 4 major kinds by some modern palmists. Each shape has its certain traits, there are: Earth, Air, Water, and Fire.
Look at the mounts on the hand. Five mounts in order represent for Venus, Jupiter, Saturn, Sun, and Mercury.
Interpreting the fingers
Check the size of both fingers and hand. If a person who owns large hands, he is contemplative and act slowly. This stage reflects to body and characters.
Free Palm Reading with Instant Accuracy
Have you ever tried to read your own palm?
Sometimes, we look at our hand and wonder what kind of mystery it is hiding. Each line in the palm will deliver the information regarding your life aspects (relationships, career, finances, etc.), your personal potential, and your personality traits.
For centuries, palmistry has always been one of the most popular methods in predicting future; amazingly, anyone can learn to read palm.
Chiromancy involves the practice of telling fortunes and interpreting character from the lines in the palm of your hand. According to the expert palmists, the left hand is the hand we are born with while the lines on the right hand can be changed and shaped by our choices. Some of the important features, such as hand shape, fingers' shape, nails' shape, palm lines, mounts, etc., of an individual's hand will help them understand their personality.
Reading palm is quite easy to learn, and like any form of fortune telling, you'll get better at it the more you do it. Not only improving your skills, but you also can enhance your communicative ability by interacting with many people.
How to read your own palm?
In fact, palm reading is way easier than you may think. No card, no coin, and no chart, just a hand and the knowledge that's available online. Whether your interest is serious or casual, learning palm reading for beginners will open a world of insights into yourself, your family, and your future.
Once you are able to analyze basic lines and other qualities on the palm, you can take a look at anyone's palm and confidently tell them about their aspects in life.
Let's figure out the significance of the different features of your palm lines. The hand shape and fingers' shape relate to the hereditary influence of your character and disposition. The shape of fingers gives a deep understanding with respect to a person's talents as well as qualities.
The fingernails, also, tell you more about your general disposition and other hereditary traits. In the palmistry, there are 4 types of hands, which relate to the elements – Earth hands, Water hands, Air hands, and Fire hands. Similarly, there are 4 major lines on the palm – the Head Line, the Heart Line, the Life Line, and the Fate Line.
Furthermore, focus on the length of the palm, the thumbs and their roles, the textures of hand, the color of the palm, and quality of lines in the palm to achieve a reading with instant accuracy.
In general, Palmistry is quite popular in many countries. Even though it doesn't require psychic ability, it's still interesting to discover a person's health, mental, emotional, and physical characteristics as it is the combination of physical and astrology.
No one proves that Palm Reading is true but it still attracts many people through centuries as its own culture and mystery.
Which Hand to Use for Palm Reading?
When it comes to Palmistry, some of us can wonder which hand should be used as the basis for a Palm reading. The most recent trend has suggested that we should take BOTH hands into the divine interpretation. Nonetheless, lots of the trends noticed in history tended to be based on cultural perceptions.
This subject will help you take a glance of some special aspects of these trends, and then give your own standpoint.
Which hand to read?
Yes, this is always known as the common question widely asked by many people.
The traditional palmistry claims that the right hands of men and the left hands of women should be used to interpret. However, the scientific approach tends to greatly differ in its ideas. This approach suggests that it is really necessary to see both the hands of an individual.
It also says further that the left hand can be a great doorway to the natural personality of a person while the right hand may disclose what she has done with her personality and gifts. Obviously, this will be opposite for left-handed ones.
#1: The traditional Indian trend
According to Ed Campbell, those using Eastern methods have a tendency to interpret the right hands for male customers and the left hands for female ones. Yet, this trend is completely sexist and inadequate. It means that the women are just compared to the left hand while the men are compared to the dominant one (right hand).
#2: The traditional Chinese trend
Some individuals are aware of this trend, yet it is truly based on the Yin Yang philosophy. For the Chinese, they are apt to use the expression "Left hands for men and right hands for women.
Actually, this is reflected in the well-known Yin Yang symbol.
In the genuine version, the White (male) part is often shown on the left side while the Black (female) part is generally displayed on the right side.
#3: The handedness trend
In reference to this trend, the right hand is in right handedness while the left hand is in left handedness. In the simple word, a person who is right-handed will use his right hand for Palmistry and vice versa.
#4: The both-hand trend
In fact, the scientific approach tends to differ in its ideas. It is advisable for us to use both of our hands for palm reading. As mentioned in the introduction, this trend has been applied popularly by most of the Palmists.
It also states that the left hand is known as the doorway to the personality traits of a person while the right hand indicates how she has done with her characteristics and talents.
Bear in mind that this is totally opposite for the left-handed individuals.
Palmistry For The Right Hand
Texture
Believe it or not, the key to deciphering the persona of an individual is the texture of his hand. It is essential to see for both the back and front of the hand.
A coarse-textured hand tends to describe the coarse nature whereas the soft-textured hand can show refinement and sensitivity. Calluses will reveal that we are either the hardworking individuals or have the job where we need to work with our hands a lot.
Flexibility
The flexibility of our right hand is apt to indicate how adjustable we are. Hence, the more flexible the hand is, the more adjustable our nature will be. On the contrary, in case the hand is stiff, we often possess the rigid personality.
Those whose fingers may easily be bent back are depicted as the pushovers.
Color
The hands' color can show the general condition of the blood and other circulation in our body. As a result, the pinkish hand will refer to the healthy person while the yellow one can denote the excessive bile production.
Keep Eyes on the Lines of Right Hand
According the experienced palmists, the dominant hand (the one used most) should be read first for the core interpretation. In that sense, if you're the right-handed individuals, wisely keep your eyes on the lines of right hand.
With no fancy equipment, the Palmists in the local booths are able to decipher your palm lines. Along with that, what the online practitioners need is the clear picture of lines on your palm.
Otherwise, show them vividly via the computer's screen.
When approaching a Palm reader, the very first question that she will ask is whether you're a right-handed people or the left-handed one.
Be honest to confirm the right dominant hand so that you can know the exact future, everyday events, etc. The revealing experience is definitely exciting enough for all to digest. Besides, you're also granted a chance to disclose the truths or secrets about your birth.
Let the wise Palmists read your dominant hand so that most of hidden factors can be brought to light from natures to destined future regarding love, marriage, career, health, and so forth.
Overall, there exist 3 major lines that no genuine palmist will ignore.
While Life Line depicts your vitality or life-span, the Head Line deals with your mindset or learning capacity and the Heart Line is what you need to decipher the emotional concepts around love, romance, or happiness.
Beside the palm lines, the hands' shapes also tell the world a lot about you. Hence, during the Palm reading session with legit Palmist, the shapes of your hand are also taken in account such as the square, the conical, the spade shaped, the pointed, and the mixed-hand.
Since no Palm readers take granted for their words, the seekers themselves are advised to take the predictive pieces for reference so that their life path will be fulfilled the scenes of bliss.
In brief, to read lines on palm, it is necessary for us to understand and perceive their meanings first.
Don't forget to find out the significances of the hands' shapes. Numerous Palmistry-related sites on the Internet are always available for us to learn. Use them wisely and properly. It is however better for us to make use of their predictions for entertainment.
The in-depth and meaningful readings should be performed by a gifted and expert Palmist.
How to Identify Palm Lines?
Have you ever wondered what the palm of your hand says about you?
Each line of your palm indicates a specific aspect of your life, and each contains secrets that could tell a story about your future. With a guide to palmistry for beginners, we believe you can read your own hand or, at least, identify all the essential palm lines.
Palm reading can be fun and bring so much curiosity at the same time. It helps revealing something about yourself that you would never know. As you all know, the key to a successful palm reading is to read all the lines together accurately.
Focus on both of your hands – the dominant hand is for the insight into your career life as well as how you present yourself to the world, while the other hand gives hints to help you examine your personal relationships, emotional struggles, and dreams.
Have trouble making out the palm lines?
Cup your hand slightly and read on:
In case you are trying to learn palmistry, the first thing you should know is to determine the four major lines in the palm, since these lines define an individual.
Take a look at your palm lines!
According to the beginners' palmistry guide, there are four important palm lines on your hand called the heart, the head, the life, and the fate. The heart line describes generally the emotions and perspective about love of a person, and also shows the state of their physical heart. The head line is all about the intellect of someone. The life line defines one's way of living, telling if they are the energetic type or the cautious one. The fate line shows how much the individual is influenced by external factors.
Once you can easily distinguish these major lines on each of your hand, you are able to get started on interpreting their meanings.
The heart line begins on the left side of the hand and curves upward toward the index finger.
The head line is often positioned below the heart line; it begins on the right side of your palm and ends in parallel with the ring finger.
The life line starts on the right hand side near the edge (from the thumb) and ends near the wrist.
The fate line intersects all the others; it is a vertical line running up the palm towards the base of the middle finger.
Besides the four major lines, there are also other lines which seem quite important in palm reading, such as the marriage line, the sun line, the children line, the money line, the intuition line, and the health line.
If you are done with the palm lines, then continue doing the further research about the shapes of the palm, the mounts, and even the fingerprints. In fact, palmistry refers not only to the reading of lines but also the reading of many factors including fingers, fingernails, arms, etc.
Getting a guide to palmistry can provide you tips to discover your personality traits, your destiny as well as your future and beyond.
Overview of Palmistry Hand Shapes
All things related to your own hand is able to offer any palm-related clue as to what type pf person you have become.
Don't be afraid of knowing more what are lying in store for you.
One palm reader is able to not just look into the lines of the palm but also take into considerations about the stories of your palmistry hand shapes. By saying this, it means that there can be something so interesting about the shape of your own fingers and even the thumps.
Not to mention about the true prominence of both knuckles and mounds, your nail can really say something about you yourself.
Know anything about the true purpose of reading the hand shapes in palmistry?
It's known that the hand shapes go separated into different elemental types. Better than that, they have the abilities of defining the human's temper and traits.
Here are some hand shapes that you might take an interest in.
Find Your Elemental Hand Shapes
The Air Hand:
They are long and narrow, the most elegant appearance on a man or a woman. The hand itself is one of the driest hands, always featured with the long fingernails as well as other long nail beds.
Have a long palm, and then you will have the Air hand. Besides, one of the most graceful shapes, such hands is always seen on the hand models.
The Fire Hand:
The ones having the fire hands would have the most extensive palms, wide, and generous appearance. Due to the shortness of all fingers, the fire hand is stated to be kind of stubby.
In case they really look like that from the outside look, then we can see it as a sign of a person having the stubborn nature, particularly when being paired up with the wide knuckles on all fingers.
The Water Hand:
All water hands here are so much long, which can make them look pretty much like the Air hand. Yet, it's said that the quality of the water hand here is definitely the instant dampness and moistness at the first touch.
Whilst it's so true that some of people at times have the sweatiest palms, which means that such a tendency could move beyond the phenomenon to be actually the most frequent state of the person.
The palm having such a shape will usually show up in such a soft and rounded in appearance.
The Earth Hand:
Everyone has studied palmistry or not, and the Earth hands would be easily recognized by the others. I mean, they're pretty much like the bear paws. The palms tend to be kind of big, expansive, and long. The fingers are so generous and long. Always, they are extremely dry palms.
The Etheric Hand:
The very last hand type will be seen as an etheric one, or psychic hand. Such a hand type gets identified, looking like the Air hand. The very long and naturally curved hands are always the initial visual clue of one psychic hand at the first glance. Besides, one etheric hand is pretty much like the Air hand in one way or another.
The Combination Hand:
It's highly probable to find the hands which contribute to the combination of all elements. In other words, it's a great combination of the Earth and Air hands together with both wide palms and long fingers.
The hands display a blending of the most standard elemental characteristic.
Broad and Square Palm Shape
In fact, we call them the Earth hands, since there are two major elements related to them covering physical traits and personality type.
The hands are basically the square-set with any boxy finger or thumb. The entire skin is often coarse and thick in its texture. The color would be kind of reddish and ruddy. You might have a fewer deep lines.
How about the type of personalities that you could have when having the Earth hand?
One Earth hand is indicating the headedness and then an approach to the life. In most cases, they would prefer the physical stuff to any intellectual pursuit for real. Besides, the most practical people are the ones working with their own hands. Besides, we're told about how the Earth types are like the hands used for fortune telling.
Long and Noticeable Palm Shape
As for the physical characteristics here, we know for sure that a square palm having such long fingers here would be at times tapered. The skin of that person will be always dry and kind of pale. Besides, we can easily see lots of lines which can be seen noticeably in definition.
As it comes to the personality, one Air hand like that tells us about someone who is so curious and imaginative. These ones usually bear the most anxious dispositions, so they are very prone to the stress in life.
Besides, their feelings can be internalized making them kind of cold for some times.
Along with the palm lines, there are also different mounts on the thenars.
Overall, these mounts and lines will be analyzed in tandem to get an exciting idea about a person's whole life. Apart from these, the texture, flexibility, the color of the palm, size and shape of the fingers and nails can be also taken into consideration for the full and in-depth palm interpretation.
Generally speaking, this is just a simple guide for those who love learning about palmistry guide.
Want to add more important and useful information?
Don't hesitate to send your inquiries in the box available online and receive our instant replies. Love serving you!