"My Scorpio man did leave me once as our relationship back then was quite stressful. But then he returned exactly on my birthday one year ago and tried everything possible to win me back.
We started the relationship again; nonetheless, he became withdrawn due to his intense life. Despite of that, I still took it personally and showed my support to him.
After a while, I realized that he was not a good boyfriend and told him directly about how his negative behavior was affecting me.
He has said many times that I am his true love and that he has never been more in love with anyone else than he has with me. Suddenly he stopped seeing and talking to me though I kept contacting him.
There was no closure for two of us.
Almost a week I have no contact from him and I feel like I lost my soul.
Why does my boyfriend often leave when he gets stressed?
Will Scorpio man come back? Will he come back more than once?"
Should you leave your Scorpio man alone whenever he acts distant or ignores you?
In this article, I am going to provide you some good tips of winning back a Scorpio male. If you are suffering from this guy's distant attitude or behavior, then hope you find the following ideas beneficial.
How to Get a Scorpio Man Back?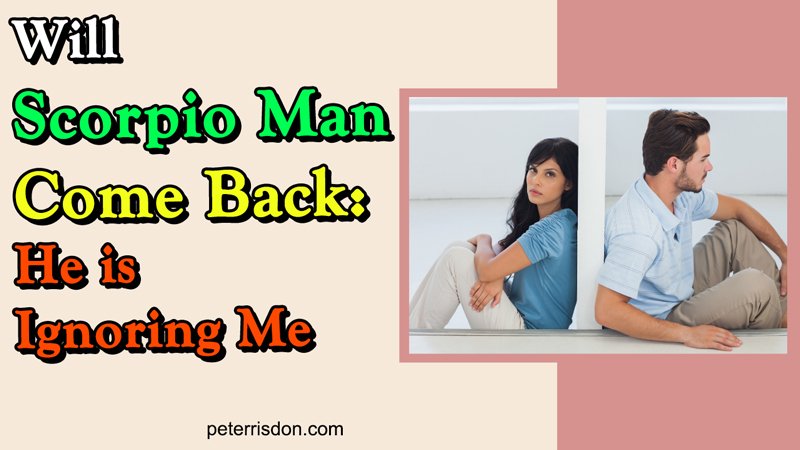 Sometimes you may think you don't want to be with your Scorpio man anymore; nevertheless, you will immediately regret when he withdraws from your life.
There are many good reasons why you need this guy in your love life.
Winning him back is not really as hard as you thought; actually, you'll find some doable ways to shorten the distance between you and him.
1. Have fun on your own
You may feel confused with this idea, right? How can you have fun with the reality?
I know it could be hard but you need to show your Scorpio boyfriend that you are having a good time in the present. No matter how sad you are, be happy and confident in whatever you do and you will soon catch his attention.
Knowing that you are doing well makes Scorpio man miss you and want to come back.
2. Make sure he sees that
Of course the purpose of being happy as well as having fun is to let him notice.
Your plan will not work if he pays no attention to you. Therefore, remember to upload every moment of your happiness on your SNS. Most importantly, you are advised to be more active after realizing his distant behavior.
It would be an unwise move if you quickly block or unfollow his account.
3. Do not be too obvious
Never let him realize your intention immediately!
It's much better if you now show up in front of him with a desperate look. Terribly, don't think of begging him to come back to you or trying to do everything for him willingly; this will only build much pressure on him.
4. Be smart
What to say to a Scorpio man to get him back?
This guy always wants to be with the lady who can discuss any topic with him as he is an intelligent person. If you want to join him in a conversation, then you must be knowledgeable enough for what he is going to say.
Don't just say sweet things to him as he expects more than that.
Learn to attract a Scorpio male if you have a keen eye on him.
5. Take care of your appearance
Even though he ignores you not because of your looks, make sure you have to give yourself a makeover.
Men love by the eye, so it's significant to prepare yourself different in a good way. Upgrade your appearance to become prettier and more feminine. The goal is to make him go WOW whenever he sees you.
Why don't you try a new hairstyle or change your fashion style?
If he likes women with short, stylish hard, don't mind cutting off your hair. Add lipstick for a brighter, livelier look.
6. Don't be clingy
Scorpio man is interested in independent women.
No matter how much you love him, you should not follow him around all the time. Instead, I wish you could find something to do to make your life busier.
When you are too clingy on him, he may feel like you are trying to tie him up with some invisible ropes. Keep showing up next to him is not a good idea because he will think of you as an annoyed person and the chance to win him back will disappear.
7. Hang out with friends
Rather than giving your Scorpio boyfriend all attention, why don't you spend time hanging out with your best friends or participating in fun outdoor activities.
Show him that you are no longer the one who you used to be.
Have fun with your friends and post all great moments on your social media. You have to let him know how much fun you were!
8. Gain his trust
Once a Scorpio man acts distant to you, he may not be pleased with you about something. Thus, you must show him that you've grown up during the time he went away.
Let him realize that you in the present is much better than your previous version.
If you have been so childish in thinking, be more mature to gain his trust for you again.
9. Tell him an apology
Did you do something wrong to him? Why did he leave you all of sudden?
Keep asking these questions while reflecting back on his attitude and behaviors lately. Maybe it's necessary to understand your Scorpio man in love. In case you are the person having the guilt, simply talk to him in a gentle manner and then give him an apology him sincerely.
10. Be certain with your decision
A Scorpio man likes people who are straightforward and direct instead of those that keep beating around the bush.
Thus, if you really want him to come back, be serious and never play games with him. This guy hates when someone plays with his feelings.
Final Words
With these tips, you don't need to be much anxious even if your Scorpio man disappears for months.
He probably needs a space where he can think and reflect all of his actions privately.
So now you know the fastest way to get a Scorpio man back. Of course don't be disappointed if he doesn't want to return. Future is not set in stone, and you may not guess what is waiting for you ahead. Maybe someday he could be moved on by everything you've done to him and would come back.
Isn't love all about trying the best, is it?
No matter what the result is, at least you've tried and there will be no regret.