A Scorpio man is considered the most serious man of the zodiac.
If you are dating or loving a Scorpio man, check the following brief description of his traits to see how many percentages of this list are right and get to know him better.
But, let's have a look at his zodiac sign beforehand!
Scorpio Traits And Characteristics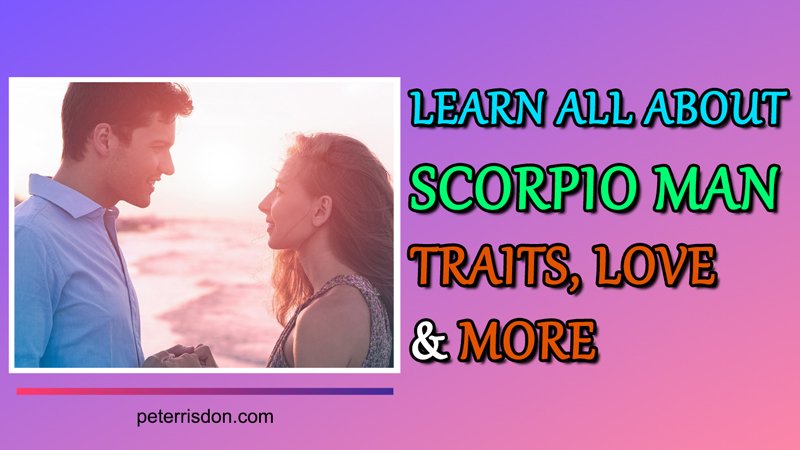 In the zodiac, Scorpio (October 23 – November 21) is considered as the most profound, powerful, and intense character.
No one can really guess what he/she is thinking about.
Sometimes, when Scorpios show up with self-controlled and calm face, people still see the emotional energy existing inside them. As described, Scorpios are like the volcano, they can explode at any moment.
The Scorpio-born have strong desire in achieving whatever they want. A magnetic charm hidden under the cold face can easily attracted you right away. With a mysterious thought, they know clearly how to grab the limelight effortlessly.
Are these truly their special personalities?
Below is the list of a Scorpio's main traits and characteristics!
Positive qualities
#1: Ambitious
With Scorpios, power, money, and position are 3 things affecting to them most.
They're born with a high ambition, so they always want to do everything to accomplish their goals or targets. Before carrying out any task, Scorpios have to ensure that they can achieve it. If not, they need to find another way to get it.
#2: Brave
Being known for their courage, Scorpios are never quick or give up when they fail in doing anything. On the contrary, they always remind themselves to learn the experience and try to start the challenge over and over again.
Despite the difficulties of the situation, Scorpios must get whatever they want.
#3: Intuitive
Scorpios tend to separate themselves from the society as they're emotional and sensitive. They rarely believe in the others' words, except themselves. Most of the decisions they make are mainly based on the intuition.
Scorpios can also read people's mind.
#4: Faithful
What if you have a Scorpio best friend? Be afraid they will betray and tell your secrets?
Don't need to worry! Scorpio is a trustworthy and faithful person, and he can sit for hours to listen to your confidence. If he/she promises you anything, he will definitely keep his words.
Negative qualities
#1: Jealous
As you all know, Scorpios are extremely jealous and possessive. Whenever you're having a relationship with a Scorpio, please find a way to maintain his negative point. Otherwise, their jealousy can't save the misunderstood between you two.
#2: Secretive
It's easy to understand that Scorpios can't trust people, even their closest ones.
They find it difficult to reveal his private stuff for everybody. If you want to know or understand what they're thinking in their head, you need a really period to make sure they totally believe you. Don't force them!
#3: Resentful
The Scorpios can get hurt easily by all the bad comments and negative treatment towards them. Unlike other star signs, he won't let anything that make him hurt pass on easily. Be careful, or they might take revenge!
Scorpio Man's Personalities
Man born under the Scorpio sign has always presented such a detached characteristic whilst still having an underlying demand for both romance and fulfillment at the same time.
As it comes to this sign, everyone knows that he would be full of eager and secretive attitude towards everything that you can't ignore for real.
There's no wonder why the sign is seen to be one of the most fascinating ones in the astrology system. It is undoubtedly one of the most loyal and decisive signs of the bunch. Having no hesitation to ask questions will be the most recognized qualities of a Scorpio. Even when in love, he can be the most passionate man.
Nonetheless, this zodiac sign always have a constant need for higher involvement and great success.
#1: He is determined and passionate
When a Scorpio man comes to the matter of life purposes, no one can prevent him from getting what he wants. Because he's independent, persistent, and persevering, so finally while other people are wandering somewhere, he has achieved his targets already.
Going along with his determination and independence is passion. This factor plays an important role in his success making him good at any fields of his life.
#2: He is stubborn and dominant
Once he makes up his mind, it's nearly impossible to change his decision as well as his attitude towards anything or anyone. Criticism doesn't have any influence on him, so don't criticize him because he won't change.
Let him live the way he likes!
He's interested in gaining control of everything from at work to at home.
Scorpio men don't like being ordered by anyone else or listening to others' advice because they know clearly who they are as well as what they are doing with their life.
#3: He is sensitive and mysterious
Though his exterior can be calm and confident, it's easy for him to get hurt, so it's advisable to care your words. If he is hurt, it's extremely hard for a Scorpio man to forgive or forget what that one did to him.
Mystery is a typical trait of men under this sign. He loves being mysterious as well as solving mystery.
When Scorpio Man In Love…
Does your boyfriend have the birthdays between October 23rd and November 21st?
Or are you planning to attract a Scorpio-born man?
You want to understand more about his characteristic, his hobbies as well as his dreams?
Well then here is your chance to know him clearly:
Scorpio is considered as the person of perfectionism. Born under a feminine sign, this man wants everything around him to be perfect. The best of food, the best of furniture and the best in everything!
If you and your Scorpio boyfriend are seeking a bedroom or a bookcase, he will find out everything, which is related to that furniture such as how it was constructed or how the quality of woods were.
You may want to gain insight into Scorpio male's sex life also!
His Behavior in a Love Relationship
#1: Loyal and dedicated
Be dedicated, loyal and steadfast are some words to describe some characters of a Scorpio man when he falls in love with you.
This does not mean he never cheats you but in some cases, he does this because some reasons. Therefore, you should find out the reason why he cheats you carefully before reproaching him.
#2: Be jealous
When a Scorpio man falls in love, he is extremely jealous and possessive.
Because of curiosity by nature, he will not hesitate to question you about anything. If you really love him and want to last a long relationship, you should accept all of his characters, including this character.
#3: Be guarded
A Scorpio man is sensitive by nature, so he can be quite guarded about showing his true feeling. He will not be easy to trust people as well as let others take advantage of them in any way. You are difficult to know his true emotions until he trusts you.
Don't worry, when you show your trustworthiness, he will not hesitate to share all of his secrets with you.
It is not difficult to understand a Scorpio man, is it?
If you really love him, don't hesitate to show your trustworthiness as well as your true feeling. You will be not disappointed when trusting him. Love is always wonderful, so let respect the moment, when you and your lover fall in love.
How To Treat A Scorpio Man?
Due to their intense and secretive nature, both Scorpio men and women tend to be misunderstood. Despite of that, it's a must to show a Scorpio that we are trustworthy and reliable and they will be your loyal and life-long and friend.
According to horoscope's theory, men born under this sign are deeply serious about love, relationships, and something in life.
Check out excellent ways to treat a Scorpio man:
1. Scorpio males own the mysterious and intense gazes which often present the calm exteriors, masking the deep sensitivity
A Scorpio man often observes and analyzes from a distance with the aim of gathering more information to augment his powerful intuition.
Although we are able to deceive him for a short time, he tends to be adept in seeing the heart of any issue. Once sensing our dishonesty, maybe he can never see our face forever.
This guy appreciates those who are honest and authentic, remember!
2. He prefers to hear our stories, instead of sharing something about himself
Tell a Scorpio man something about ourselves, and he will most likely keep them in mind. In any conversation, he is most fond of emotional truth and anything manifested on the deepest levels. Of course, he really despises shallow topics and small talk.
Besides, don't forget to avoid speaking with him everything all at once, or we shall lose his great interest.
3. Make friends with a Scorpio male can be challenging and complex
Most of the Scorpios are apt to have only a couple of intense friendships since they need for their buddies to bond with them on the most intimate level.
Ephemeral and flimsy friendships never get attention from a Scorpio guy.
4. Don't be angry with a Scorpio man
If we make a serious mistake, after making us suffer, he can eventually forgive us, but he will NEVER forget it. Betrayal will be answered with the unrivaled thirst for revenge. That can be one of the main reasons why the symbol for this Zodiac sign is a scorpion.
As a consequence, in a fight with him, the chance we will win is very low.
5. This guy tends to be withdrawn and quiet
This does not mean that he is not interested in us, remember!
Scorpios have a tendency to depend on their powers of observation and intuition, rather than the untrustworthy testimony of others. If he is willing to spend time with us, so we should believe that he truly enjoys our company, even if he never says so.
Venus in Scorpio Man in Love
Amongst the 12 signs of the Zodiac, Scorpio turns to be one of the most powerful signs that can protect the others against most of dangers. Hence, the Scorpio men are generally considered as the courageous guys who secure their beloveds' safeness totally.
However, their secretive demeanor and solitary life sometimes drive their girls to go crazy.
Luckily, the presence of Venus in Scorpio alludes to the loyal, deep, and passionate love. Those born with Venus Scorpio are likely to fall in love deeply and loyally throughout a lifetime.
Things to know about Venus in Scorpio man's love
Feel curious about Venus in Scorpio man in love?
Regardless of his secretive lifestyle, a Scorpio man attracts other girls with the absolute feelings in love.
With the influence of Venus, Scorpio may find it difficult to trace the partner that completely matches him in the deep level. Hence, it takes time for this Zodiac sign to get involved in the relationship for a lifetime.
Venus Scorpio is mostly deep and intense. That means they are born with the robust willingness to being committed in the favorable relationship. Being fearless in the others' eyes, the male Scorpions are not afraid of making the souls of love and taking actions to show off their focus on the ones of interest.
As they are thirsty for intimacy, they need the partners who can insert warmth and care into their solitary rooms. In that sense, the Venus Scorpio tends to possess his mate and tries to make the mate feels normal when being possessed. With the intense attention, the Scorpio guy gains scores in his beloved's eyes since almost all girls love being noticed by their men.
The thing is: the total control of the Scorpios over the relationship may make their women feel too overwhelmed to endure in the long term.
Along with that, the Scorpio man with Venus is fond of discovering every detail about their life mates, but they remain evasive when being asked about their personal issues. Such the ridiculous characteristic drives his woman to feel skeptical about his love and intention no matter how attentively he cares for her.
Based on the horoscope love compatibility, Scorpio can only get along well with Cancer, Pisces, Virgo, and Taurus. Since both Earth signs and Water signs agree to enjoy the home comfort, they can go hand-in-hand with little degree of unwillingness.
Most Scorpio men appreciate the women of loyalty as they find it hard to forgive any sign of game or deceptive in love.
Single Scorpio Love Horoscope
As we know, one love horoscope reading online can really help any individual to know the basic reasons why the decision of holding on something is not right at the time. It's designed to help us to know whether or not she can be your best match in your love life.
Let's move on to another type of love horoscope, the one is made for all single Scorpio this time.
Get one free reading now and see what to do the best for your healthy relationship in the future life.
Be more open to all new kinds of ideas, which could make you one of the most ideal partners for the other signs in the astrology system. Stop worrying now, particularly when you have the willingness to give anything a go at least once in a lifetime.
Make sure to get yourself more open to any fresh perspective and idea that is committed to help to attract the others in an easier way.
As you're so new to try anything else in life, do not give up, and let your very own adventurous spirit guide you through all those difficulties as well as leading you to anything that is the most attractive to you.
Being so inspired by the others might put you a risk, but who knows? You could meet a great partner. Just prepare a bouquet of flowers with one unexpected present in your kindest gesture, which could make you have one more chance. Try it since there's nothing wrong to do that.
For those having any past break-up, then you should be careful about that since the rate of failing to succeed can be really high. Thanks to the stars from your own love horoscope, they would help to divine any encounter for you that is meant to change your love life better or worse.
Guess what?
Come to listen to the others or your friends about how they have told about you. You might be seen to be kind of cold as ice when being always so serious towards the new people, which can be one of the most common reasons preventing you from making new relationships.
It's time to have all stars advised you. Pay more attention to the most recent encounters in your daily life, and go to consider which one will be very likely to be your true love. That love would know how to hide itself in the crowds.
Now let's forget about the love pains and then your friends will be surprised by your smiley face.
Scorpio Chinese Astrology – What to Expect?
Scorpio – the 8th sign in the zodiac and the Water sign in the astrology – will start this year with a role as a leader. Try to prove your directing skill on any occasion (in workplace, in school, or at home).
As an ambitious person, the Scorpio-born do anything to gain the wealth or any valuable things he/she desires from last year. In this year, your heart is fearless, bright, and secure.
Are you a Scorpio? Want to know more information about what will happen in the near future? Scorpio Chinese Astrology is here to give you advice!
In the Chinese zodiac, Scorpio is considered as the Sheep.
This is the most misunderstanding sign of astrology because this sign likes to keep all the mysteries and secrets by itself.
Overview of Scorpio 2019 Horoscope
In 2019, Scorpio will receive a powerful good luck and rich energy. You'll carry out everything smoothly, and that's a perfect thing for your career. Nevertheless, don't expose all the energies, or you will burn out or frazzle people around you with your ebullience.
Between February and March, Scorpio should not meet or make friends with new people. Being known as the sensitive and tended to hide themselves from the stranger, Scorpio may have some mistake if you don't know the right way to approach others.
At home, don't force your family members to do anything you like, as well your friends. That will lead to the disagreement between you and your beloved buddies.
On March 11 and April 6, there's a special surprise will come to you. There's an energy affecting you strongly than other star signs.
Get ready to know what it is?
This year is such a fiery year for a Water sign like Scorpio. Remember to avoid overexertion and respect your physical limits.
Scorpio Love Horoscope in This Year
In 2019, Scorpio may focus more on the career than relationship.
However, it won't stop the love when it happens. Keep in mind that this year is not the right time to start any relationship, so if you found one, try to embrace that love life. Otherwise, many good things are not going to happen. Actually, desire, sex, and passion play important roles in Scorpio life.
Most of those men would try hard to show how much he can be so rugged and touch, instead of displaying any further form of interest. Yet, it's good to know that deep down himself he's such an emotional man and always attached to his lady's choices.
This is only a part of plentiful secrets about Scorpio Men, so how do you think about these above traits?
If you have any questions or requirements, contact us for further information as well as answers.