Find yourself attracted to a Sagittarius man?
Wonder how this fiery guy is like in love and relationships?
If your answer is yes, then you've come to the right place. Many claim that men born under Sagittarius zodiac sign are very attractive in ways hard to explain.
Via this article, we hope the following information will help you understand and gain better insight into Sagittarius man in love.
Basic Information of Sagittarius Horoscope Sign
Birthday: November 22 – December 21
Element: Fire
Ruler: Jupiter
Quality: Mutable
Color: Blue
Lucky Day: Thursday
Lucky number: 3, 7, 9, 12, 21
Key words: Adventurous, blunt, optimistic, carefree, active
Famous Scorpio men: Charlie Puth, Jay-Z, Jake Gyllenhaal, Brad Pitt, Jon Stewart, Trey Songz
A Sagittarius man is gentle and fun-loving on the façade. It seems like he doesn't really care anything about love; however, he is indeed a diehard romantic and passionate lover.
If you are in a relationship with a Sagittarius, keep in mind that your mate rarely let you know that he is upset or jealous of you; this guy rather hides negative or unworthy feelings for himself.
He only gives you a glimpse on his positive emotions.
Top 5 Truths of Dating a Sagittarius Man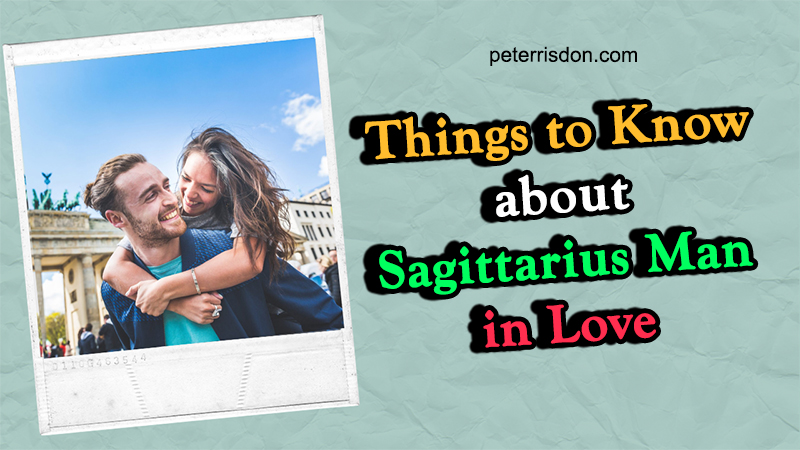 1. He craves for excitement
For women who are dating the Archer, there will be a lot of excitement and not a dull moment in your relationship. The reason is that the man has a huge preference for new experiences and a great sense of humor.
Honestly, the fact is: the Sagittarius male gets bored easily.
He cannot handle routines or familiar things; this is why you will never find any Sag sits in one place and does the same things. As his sign is mutable, he is likely the adaptable and adjustable type of person.
2. He is extremely curious
Due to the Sagittarius man personality, he is naturally curious.
There's a quote saying that "Sagittarius inspires those around them to see the bigger picture in life."
This guy will never stop until he finds the answer. If he finds himself interested in something, he can't help learning how it works until he understands or gets the answer making him satisfied.
The thing is: his curiosity doesn't stop at science and nature. It indeed can also apply in relationships – meaning he want to get to know everything about you once falling for you.
3. He does not like being controlled
Never try to tame a Sagittarius because that's what he hates the most.
Freedom is a huge value to him and he doesn't like the feeling of being tied down in love relationships. Don't mistake this as he is afraid of commitment. He will surely commit, but to the only person that makes he feels really special. The process of making him to commit may take you a long time; however, the result is totally worth the wait.
On the other hand, this guy will act distant or run away if you act too clingy or dependent.
Trying to control him only decreases the chemistry and mutual excitement levels between you two; this somehow will affect his ability of connecting and committing.
4. He is slow to fall in love
Since he doesn't prefer being tied down, Sagittarius man tends to take his time in a relationship. When he starts his chase, many often think about the Archer as a flirty; nonetheless, he can be serious and loyal if finding his true love.
He needs time to feel comfortable with you.
Once he puts down his guard and opens up his heart to you, get ready to see a romantic full of passion. A Sagittarius man in love wants nothing but being around you and making you happy.
The Sag will be quite loyal if he decides to commit.
5. He wants to dominate you in bed
Keep in mind the Sagittarius guy in the bedroom is not the submissive or romantic type; in fact, he is quite fierce and intense sexually.
If you enjoy the feeling of being given orders, told what to do, and dominated, then this man is your perfect match. Of course he does crave for the romance, but the sexual energy is more like his top priority. Let him take control in bed until he can get comfortable with intimacy.
Worship his body and follow his requests; in return, he will take care of every inch of your arousal areas to bring you the satisfaction that no one else could.
Which Type of Woman Sagittarius Man is into?
Wonder which path can lead to the Archer's heart?
There are actually many ways to attract this guy!
Sagittarius man wants to be with a girl that can keep up with him on every level. As he likes to discuss on a variety of different topics (politics, ethics, religion, etc.) with the person in whom he's interested, make sure you hone in your knowledge.
#1 Type: Woman who can stimulate his mind
If you want a Sagittarius man to fall in love with you, then you have to impress him with your depth of understand about this life. He is an intellect and always yearns to learn new things, so he expects his companion must be knowledgeable enough to exchange ideas about everything with him.
Don't always stay in your own imagination! Try to catch up with the current events to express your opinion and discuss what is happening in the world.
He would love if you can ask him questions.
#2 Type: Woman who is genuine
When a Sagittarian thinks of settling down, he looks for a woman who can truly understand him. Show your sincerity and listen attentively to what he says to you or when he gives you feedback.
Though having a gorgeous look is a plus in a relationship, this guy really cares about your beauty inside. Don't just take care of your appearance; instead, ask him to join volunteer works with you.
He may be a flirty, but he doesn't the type that wants to play games. Directness and honesty are everything to him; thus, you should be up front and open whenever he has any question for you. Once he commits to you, he expects you to be serious about the relationship.
#3 Type: Woman who is full of confidence
If you want a Sagittarius man showing his interest to you, you have to be an independent woman radiating confidence. He has a big impression on someone who knows exactly what she wants in life and is not hesitant to achieve it.
In addition, you can play up your best physical assets when the right time comes. Try to be a bit flirty, dress a sexy outfit (not too much), and spray on fragrance to seduce this guy.
The Archer loves to be pampered and taken care of.
Aside from your confidence and charm, you should also bring your devotion and dedication on the surface.
Who is His Best Match in Love Relationships?
Astrologically, Sagittarius has great overall compatibility with Gemini and Aries.
How about Sagittarius man? Who is a perfect love match for him?
As an easygoing and social person, he has no issue in connecting with many different types of individuals; that's why sorting out all options is quite tricky. Nevertheless, of all horoscope signs, the lovely Libra is considered as the #1 match for the Archer, and other two are Gemini and Aries.
1. Libra woman
Both Sagittarius man and Libra woman are outgoing, extraverted, charismatic, energetic, and attractive persons. They share the same traits and lifestyle, and the sex experience of this adventurous couple is beyond the best.
Never have a dull moment between them!
They share the mutual need for the intellectual stimulation. But, the only problem of these two people is commitment as nether of them fits well with the homey ideal of family.
2. Aries woman
Sagittarius man and Aries woman will make a relationship full of passion as both are born under fire signs. The chemistry between them is overall great. Their life together is like a roller coaster without feeling bored.
With a strong sex drive, they harmonize incredibly in bed.
As a couple, they respect each other's personal freedom and never act clingy. They quickly get involved in heated arguments but also make up soon. None of them has the tendency to hold a grudge.
3. Gemini woman
When Sagittarius man and Gemini woman are together, they have a great deal in common even though both are so opposite. This relationship comes with many possibilities as the two involved individuals can complement one another well.
Their sex life is light, fun, and playful because they enjoy experimentation, spontaneity, and variety.
The only danger of the Sagittarius – Gemini relationship is the lack of substance.
Honorable Mention
Potential matches: Aquarius woman, Leo woman, Capricorn woman, and Sagittarius woman
Worse matches: Taurus woman, Virgo woman, Scorpio woman, Cancer woman, and Pisces woman
In Conclusion
With the influence of Jupiter, Sagittarius man seems to be exaggerative in almost everything he does.
How to deal with a Sagittarius man in love?
The simplest way to make the relationship with him work perfectly is to give him a space to breath. No matter how crazy he is, he will forget it in only 5 minutes.
If you are looking for a partner that prefers to lie on the couch and cuddle, then he is definitely not your match. This guy has a huge need for freedom in whatever he does, so don't expect anything to follow the schedule.
Appreciate every moment you spend with him as the relationship with the Sag male is like a fascinating adventure.