Love does not mean you have to be with your lover most of the time.
Sometimes a relationship needs distance; however, there is a difference between needing space to think thoroughly and when the partner ignores you.
Is your Sagittarius man acting distant?
When he starts pulling away or withdrawing from you, actually there are plenty of reasons behind. But, the relationship will not end up just because he seems a bit detached.
In this situation, it's essential to figure out what makes your Sagittarius feel so distant so that you can fix your relationship with him.
Let's see if you can end up better than where you are now!
Why Does Your Sagittarius Man Pull away?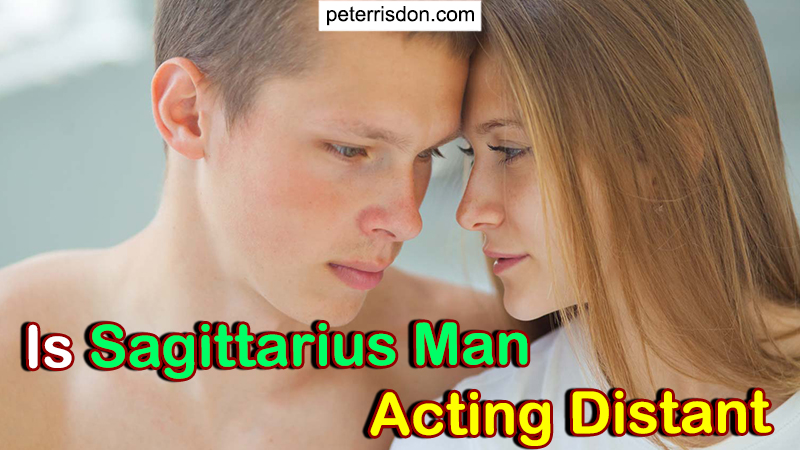 Not a dull moment can be founded when you are dating a Sagittarius man because he's always full of surprises. He is a true adventurous person who values his freedom the most. In love, he expects his partner can also be his best friend.
When getting involved in a relationship with this freedom lover, remember not to give him the feeling that you're trying to control or tie him down; otherwise, he will surely ignore you and even think about running away.
Don't display any sign of clinginess or you'll lose him soon.
As this guy can't resist the excitement and new things, he of course wants to be with someone who is as adventurous and enthusiastic as he is. If you feel that he is starting to behave distant, then you should take him out for a day trip to somewhere in which you two can do whatever you both prefer, such as hiking, swimming, etc.
Doing fun activities together can strengthen the bond between you and him.
All the fun moments will certainly remind him about all the good times both have spent with each other in the past. Don't be worry if he seems a bit reserved – it's probably because he wants to be sure if the relationship with you is worth trying.
How to Handle an Ignoring Sagittarius Man?
You already know the reasons, now it's time to find the solutions for when your Sagittarius man acts distant, ignores or gets mad at you.
#1: He stops texting
When a Sagittarius man ignores your text or stops texting, it's a sign his interest as well as affection for you is fading.
Not many know that Sagittarius has an aloof side because he is normally an energetic and outgoing person. However, things are not right if you find him extra distant and not returning texts. He either withdraws from you or just wants to test you.
In this case, you should give him time and space rather than bombarding him with tons of calls and messages.
#2: He is not honest with you
Sagittarius man is infamous for his honesty, so there must be a reason once he lies to you. When he truly loves someone, he will only tell the truth – sometimes his truths can be brutal and hard to listen.
For a Sagittarius who is deceptive, it may be because he loses his respect to you.
#3: He cheats on you
When you find out your Sagittarius man is cheating, the solution is to quickly get clear with him.
Don't be hesitant to question him his infidelity! Calmly ask him about his feelings towards you in the current situation and require a straight, honest answer from him. If he still has any respect for you, he will give a blunt response influenced by his zodiac sign's directness.
Nevertheless, if he avoids your eye contact and dodges your question, it means he does not want to explain. At this point, you should move on because he shows no sincerity in investing this relationship.
#4: He looks down your intelligence
He is an intellect and values intelligence as much as freedom.
When looking for an ideal partner, he's more into the woman who can make intellectual conversations with him than ladies with looks only. Nonetheless, if he's not respecting your intelligence, it's probably because he thinks you can keep up with him.
If you truly love him and want to fix this relationship, the answer is to widen your knowledge and impress him later.
Summary
Is it a good idea to ignore a Sagittarius man in return?
You can consider trying this way when your Sagittarius is acting distant as it somewhat helps you regain his affection. But, keep in mind it's a risky and tricky move if you want to attract him.
For more info about this topic, submit your comment below!